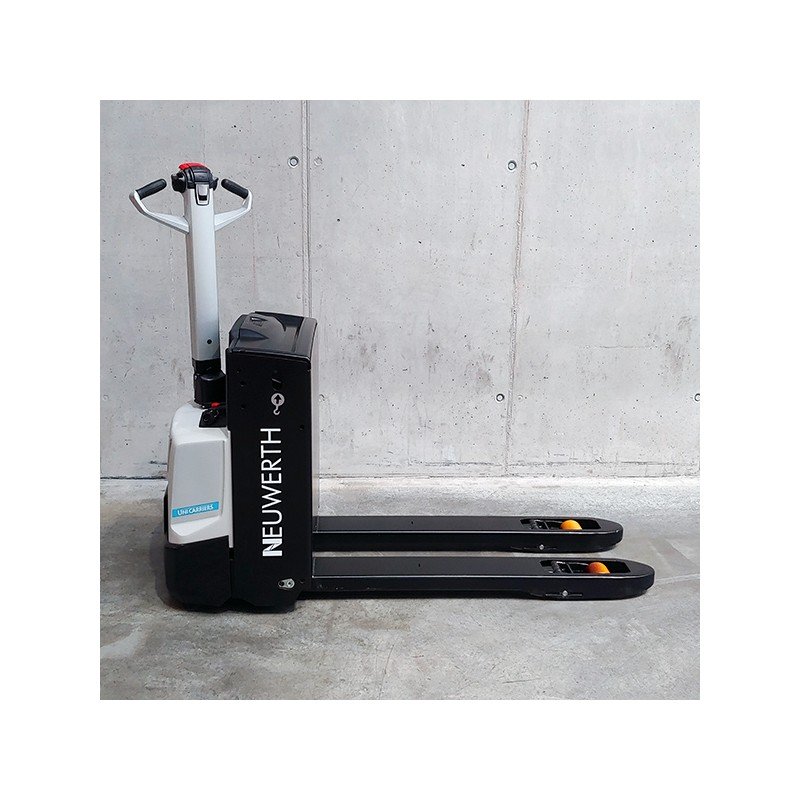  
Professional pallet truck
For intensive use: the choice of the pros! One of the best models currently on the market: ergonomics, power and speed of the "MDW" leave other pallet trucks far behind. This model is designed for daily or intensive use, keeping the driver from tiring. STD load capacity of 1600 kg (1800 and 2000 kg available as an option).
MANUFACTURER'S WARRANTY
Authorized Swiss importer and repairer.
FLEXIBLE DELIVERY
Pick-up in 1957 Ardon or delivery by truck (Planzer)
SECURE PAYMENTS
by cards, bank transfer, cash (only. pick-up).
SINCE 1976
Your Swiss specialist for material handling.
UNICARRIERS MDW-160
Power Pallet truck for intensive use
"Simply effective!"
Loading/unloading with passage of quays or ramps, load transfer over short or medium distances, on-board application in delivery or order preparation, each of the intrinsic characteristics of the equipment has been designed to cope with the various constraints with maximum efficiency.
Solid and durable pallet truck
A robust, closed and compact frame. The drive unit has been designed to withstand shocks, and the AC motorisation requires little maintenance. The user can therefore limit his costs. All the components are protected, which allows it to be used in dusty or humid environments.
Passage of ramps and platforms
The lifting stroke of 135 mm enables a height of 220 mm to be reached. The latter is particularly appreciated for ramp and platform passages and facilitates the use of unconventional pallets.
Very fast but also very stable
Five support points contribute to excellent motor skills. An anti-roll bar connecting the two stabilizing wheels protects the drive wheel. The operator has a choice of two speeds: 3 km/h or 6 km/h for safe operation.
Personalisation (options) :
Entry/exit rollers
Load backrest
Cold weather protection -35° C
LED work light
Accessory support bar
High ground clearance
Test it! You can try this pallet truck in our showroom in Ardon, Geneva or Visp.